Save time and money with

automated
follow up postcards.
Effortlessly send personalized follow up cards that inspire people to take action, and help them get connected.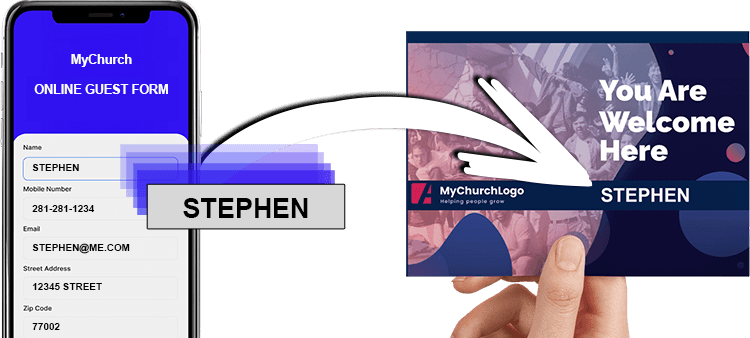 Save Time & Money With

Smart Postcards
SEAMLESSLY CONNECT ONLINE DATA
Guest cards, Volunteer interest forms, Event forms, Etc.
Eliminate double entry of data, and other tedious admin work in your foloow up process by automating it.
PERSONALIZED POSTCARD AUTOMATICALLY GENERATED
Instant customization, using your church's style
Recipient's name, address, and trackable link is automatically added to a postcard with your branding & style.
AUTOMATIC PRINTING AND DELIVERY
Zero admin work; printing and mailing is automated!
A postcard is printed and delivered to USPS within 2 business days of a form submission. It's fast, effortless, and trackable.
Easily automate different postcards for each ministry of your church, with different content.
Z

First Impressions Ministry

Z

Children's Ministry

Z

Student Ministry

Z

Volunteer Engagement

Z

Generosity & Finance
ENGAGE PEOPLE WITH INTERESTING CONTENT
Send a timely postcard based
on a person's info in the church database.
New Group Welcome
Automatically send a postcard to everyone who gets tagged in your database as a new group attendee.
New Volunteer
Automatically send a postcard to anyone who gets tagged in your database as a new volunteer.
Donor Appreciation
Automatically send a postcard when a person gets tagged as a new donor, or at key giving milestones.
Baptism Registrant
Automatically send an informational postcard to anyone tagged as interested in being baptized.
Event Registrant
Automatically send a postcard to anyone who gets tagged for an event, like VBS, Camp, or a Retreat.
Birthday Celebration
Automatically send a personalized postcard to everyone in the kids ministry on their birthday!
GRAB ATTENTION USING MULTIPLE CHANNELS
When a person scans a QR code on a smart postcard, instantly grab their attention with a landing page, a text, or email message. That's personal.
INSTANTLY SEND A TEXT WHEN POSTCARD IS VIEWED
Automatically follow up via email, or text messages, to anyone who shows interest in your postcard, using our event tracker.
PERSONALIZED LANDING PAGE FOR EACH RECIPIENT
Image a postcard recipient scanning the code on their personalized postcard, then being directed to web page that has their name on it!
UNIQUE QR CODE ON EACH CARD MEANS TRACK-ABILITY
ChurchStamp automatically prints a unique URL/QR code on every postcard, so you'll know exactly which person responded.
SmartCard Personalization features
ChurchStamp delivers robust features to personalize the user's experience as much as you want...
Personalized Landing Page
Direct Mail Template Library
Custom QR Codes On Each Piece
Variable Data & Logic Personalization
Dynamic or Custom Mailing Lists
Wait

, Help Me Understand…
ChurchStamp automatically sends a personalized postcard to people without office staff doing anything?
ChurchStamp uses revolutionary technology to automatically send a postcard using your design, addressed personally to every single guest, then tracks their response.
Hang on!
Do you mean after the admin assistant
runs a report, and licks all the stamps?
PLUS: IT'S ALL CONNECTED TO OTHER APPS
Connect your smart postcard to other software you use, and even display Google ads to people who scan the QR code on a postcard.
Yep. This is automated too.
Postcards + Online Ads
Deliver ads on Facebook, Google, Yahoo, AdRoll, and more, to anyone who scans the QR or goes to the unique link on the postcard they receive.
Brilliant.
Software Integration
Harness the power of other apps you already use like TextInChurch, Rock CMS, Planning Center, PushPay, Google Sheets, Jotform, Mailchimp and thousands of other apps you already use.