Automatically engage new guests with

Personalized Postcards

using your own brand and voice.
Turn your church website into a follow up factory by instantly sending a postcard every time a form is submitted, or someone is tagged in your database.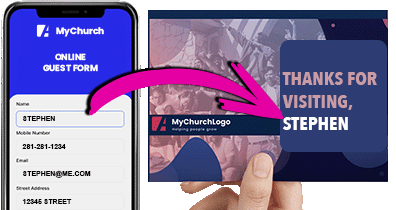 Personally engage guests, inspire volunteers, and encourage donors for about $1.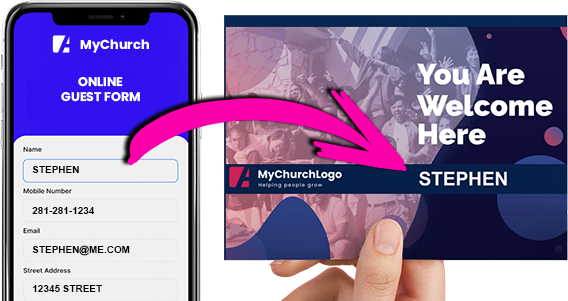 Personally engage guests, inspire volunteers, and encourage donors for about $1.
Wish every guest got personal attention?
Struggling to get people to come back?
Frustrated by a lack of volunteers?
ENGAGE PEOPLE WITH PERSONALIZED CONTENT
Instantly connect with people based
on what they care about.
First Time Guests
Automatically send a postcard to everyone who complete
your online guest card.
New Volunteer
Automatically send a postcard to anyone who gets tagged in your database as a new volunteer.
Donor Appreciation
Automatically send a postcard when a person gets tagged as a new donor, or at key giving milestones.
New Group Welcome
Automatically send a postcard to everyone who gets tagged in your database as a new group attendee.
Student Ministry
Automatically send a postcard to newcomers, camp registrants, graduates, or any other reason!
Children's Ministry
Automatically send postcards to newcomers, VBS and Fall Festival registrants, birthdays, and more.
Sermon Series
Pique interest with a personalized postcard for every new sermon series.
Event Registrant
Automatically send invites for events like VBS, Camp, or Retreats.
Birthday Celebration
Automatically send a personalized postcard to everyone in the kids ministry on their birthday!
GRAB ATTENTION USING MULTIPLE CHANNELS
When a person scans a QR code on a smart postcard, grab their attention instantly with a text, personalized web page, and video messages. Pretty slick, huh?
Multi-Channel Follow Up
Automatically follow up via email, or text messages, to anyone who shows interest in your postcard.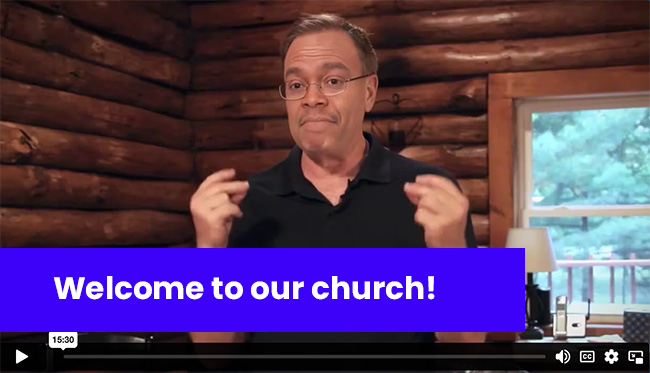 Easily add unlimited postcards, using simple templates that an admin assistant can edit.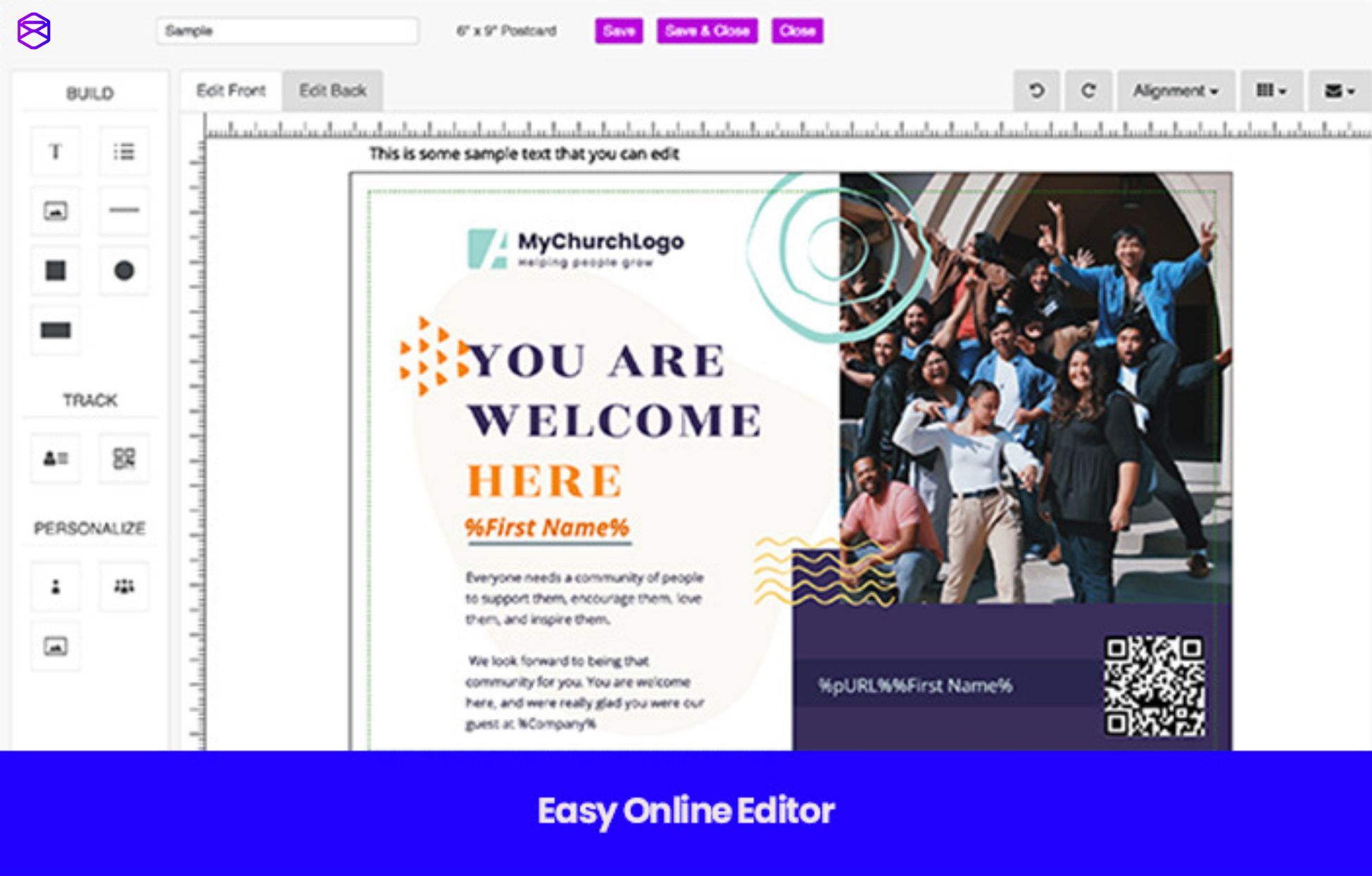 Easily customize our library of beautifully designed templates using our online editor, or create your own from scratch.
Then let the "WOW" begin. Our platform generates thousands of personalized postcards on demand, from your template.
You don't have to lift a finger.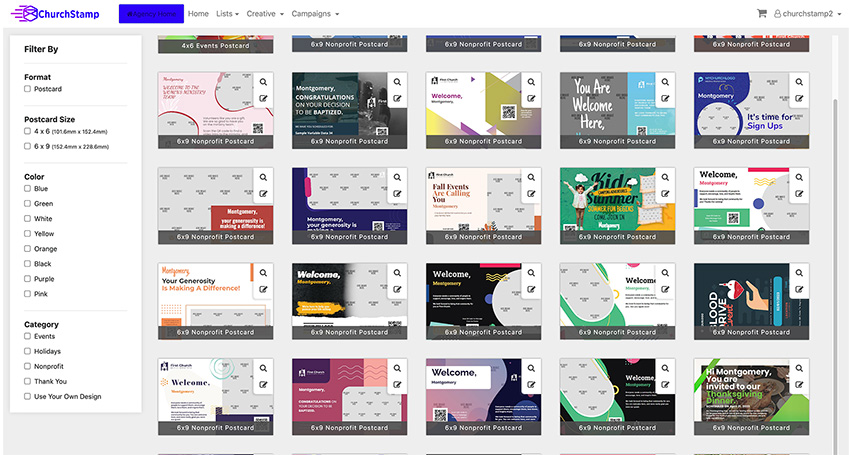 Guest cards, Volunteer interest forms, Event forms
In just a few clicks, connect any online form to smart postcard. Endless possibilities; see engaging ideas below!
Instant customization, using your church's style
Recipient's name, address, and trackable link is automatically added to a postcard with your branding & style.
Zero admin work required; Delivery is automated!
A postcard is printed and delivered to USPS within 2 business days of a form submission. It's fast, effortless, and trackable.
But, isn't direct mail dead?
Here's an unexpected reality about direct mail:
physical mail that you can actually touch is experiencing a major comeback.
Here's why today's postcards
are a great option again:
Traditional direct mail has been abandoned by most churches, which means that your guest's mailboxes are not saturated with junk mail like before.
Scarcity creates opportunity for your personalized postcards to be noticed like never before!
Direct mail used to be impossible to track, and was seldom integrated into a digital strategy.
Now, direct mail is trackable with unique urls for every single postcard, so you can get a report on every person who responds to your direct mail. Genius.
Direct mail used to be hard, time consuming, and costly. With ChurchStamp, direct mail is easy to manage, and runs on auto-pilot.
Using our easy dashboard, you can manage every aspect of your direct mail, and even see reports of what is being sent, was is being responded to, and which designs get the best response! Game changer.
NO MINIMUMS allows ChurchStmap to work for small churches sending a few postcards a month, but also scales effortlessly for larger church volume.
Send different postcard designs to different audiences such as First Impressions, Kids Ministry, Student Ministry, Men's Ministry, etc., and automatically send postcards to those audiences.
All this with no minimums.
Wait

, Help Me Understand…
ChurchStamp automatically sends a personalized postcard to people without office staff doing anything?
ChurchStamp uses revolutionary technology to automatically send a postcard using your design, addressed personally to every single guest, then tracks their response.
Hang on!
Do you mean after the admin assistant
runs a report, and licks all the stamps?
PLUS: IT'S ALL CONNECTED TO OTHER APPS
Connect your smart postcard to other software you use, and even display Google ads to people who scan the QR code on a postcard.
Ok, now this is getting interesting.
Postcards + Online Ads
Deliver ads on Facebook, Google, Yahoo, AdRoll, and more, to anyone who scans the QR or goes to the unique link on the postcard they receive.
Brilliant.
Software Integration
Harness the power of other apps you already use like TextInChurch, Rock CMS, Planning Center, PushPay, Google Sheets, Jotform, Mailchimp and thousands of other apps you already use.
SmartCard Personalization features
ChurchStamp delivers robust features to personalize the user's experience as much as you want...
Personalized Landing Page
Direct Mail Template Library
Custom QR Codes On Each Piece
Variable Data & Logic Personalization
Dynamic or Custom Mailing Lists
Yesterday's mail is dumb.
The new smart postcard eliminates admin work, so you can focus on people, while ensuring everyone gets personal attention.